Words by Giordana Patumi.
Making her Dance Umbrella 2023 festival debut, Athens-based Ioanna Paraskevopoulou is an award-winning dancer and choreographer who focuses on the interplay between movement, sound and imagery, and whose past collaborators have included DU Artist Dimitris Papaioannou. I had the chance to ask her a couple of questions ahead of the UK debut that will take place at the Pit Theatre, Barbican on October 11th, 2023 of her latest work MOS.
Q: How would you describe the overall concept or theme behind MOS?
A: Two performers enter into discourse with a disparate series of images, and seek to impart their own transcription in space. The body and (micro-)movements co-exist with curious objects and materials to act as a means of sound production. The material is intensified, exploded, paused, repeated, and distorted in order to bolster the sound experience.
Within the scenic formulation, individual pieces of information are teased out of the reused materials, thus inviting audience members to generate new connections and interrelations. They find themselves successively transformed into listeners of a makeshift and heterogeneous soundtrack that unfolds before them. The performers become the intermediaries between archive and audience, offering up their own personal takes, composing their own sound adaptation of a non-linear cinematic script, and choosing, at the end of the day, what could possibly be heard.
Question: Can you briefly explain what MOS is and what inspired you to create this work?
Answer: MOS is a scenic game. It is a project that arises from the combination of various materials and mediums. My attempt to create a dialogue between movement, sound and image. I discovered the Foley technique, during the pandemic, from a YouTube video in which Foley artists were recreating the sound of movie scenes. Immediately this idea intrigued me and I created a video project called All she likes is popping bubble wrap, in which I experimented with this idea at a recording studio. I then developed these correlations in a live 40-minute project, the duet MOS.
Q: Could you share some insights into the creative process behind the development of this work?
A: The process was fun and quite playful. We started by trying out games and at first, we focused on dances that appear in movies. For a while we experimented with sounds from different objects and which sound best matched the image in order to produce the most accurate texture for each of the visual parts that I had collected. I used to visit a store every day before the rehearsal and buy surfaces – wood, metal, other materials that we stepped on to create different qualities of sound. We took tap dancing lessons. I definitely wanted the music to emerge from our dancing. For a long time, the order of things was scattered in my mind except for a few parts that I was sure of. Then, one day, I saw the whole piece in front of me as a vision. I narrated it to Georgios, my co-dancer, and so it began to form.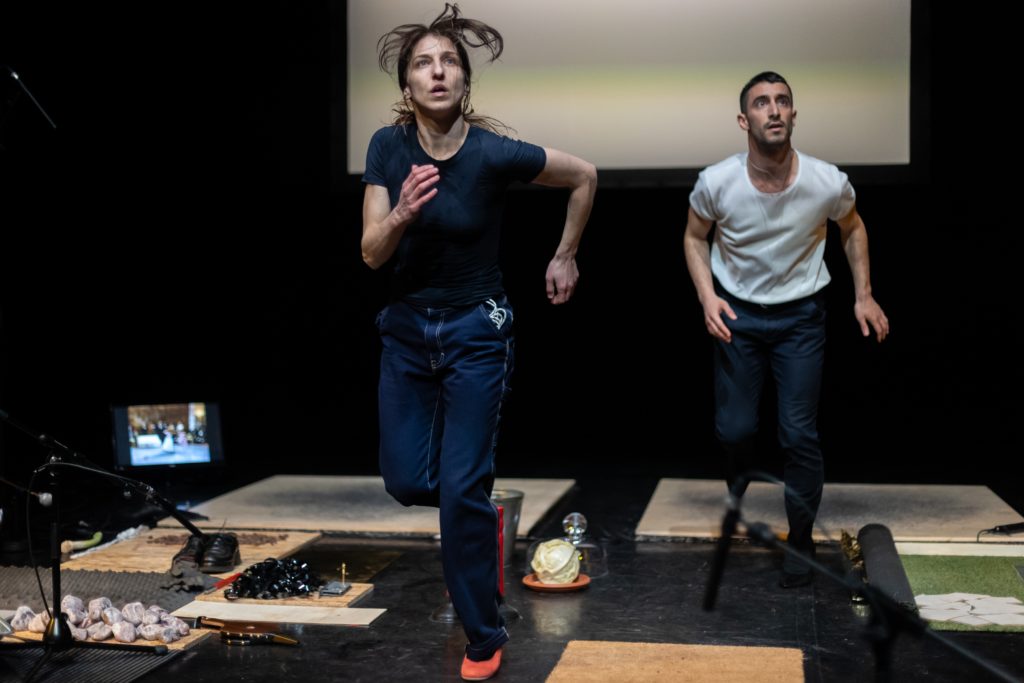 Q: How does MOS challenge or push the boundaries of traditional dance forms or techniques?
A: I am not the one who can say that MOS pushes the boundaries of the traditional. It is certainly a work that is quite experimental in concept, as I borrowed a sound technique and turned it into a tool for choreographic composition. The times are such that boundaries, identity, categorization are blurred in art. We are all experimenting from the moment we enter the studio with an idea intangible in our minds. The word experiment is just a word and words are sometimes misplaced in terms of content.
For me, what matters is the immediacy and the feeling one performance can evoke. Many experiments have been done in the past. Many ideas have been embodied. The information around us is chaotic and unabsorbed. I think MOS succeeds in the fact that it is accessible and direct and that was my aim. To create something that would make an immediate impact on the audience.
Q: Are there any specific messages or ideas that you hope to convey through MOS?
A: I have a strong relationship with all those things that are passed by, the memories and the imprint they leave. I am interested in the reproduction of audio-visual elements and their representation in the present. As well as the visibility of the processes that happen backstage.
Yet there is nothing specific that MOS deals with; it captures a function and through this sound process, my aim is to create a sensorial experience in which the senses of the audience may be tickled.
Q: How does the music or sound design contribute to the overall atmosphere or storytelling in MOS?
A: Sound is the most important element in MOS. The selection, the order and the composition of the scenes were made based on it. Initially, I was searching for copyright-free footage from films that contained sounds that I thought were interesting and that I could recreate.
So, the sound created a series of different and varied scenes that I could never have imagined choosing. Foley artists have created codes where specific sounds correspond to specific elements and actions. This glossary has been a fundamental guideline for me.
In the second part of the performance, I intended the music to emerge from our bodies, so that we could transform ourselves from sound production mediums to actors performing in the film. I wanted the function of sound to be reversed and the live recording of our tap dance steps to become the soundtrack of our dance, exhaustion and emotions.
Q: What are some of the key elements or moments in MOS that you feel are particularly impactful or memorable?
A: It's always interesting to observe the reactions of the audience. They vary from country to country. There are moments where the audience always laughs and these are also the moments that create the energy, the audacity and the need to share. Through these reactions I can revisit the work and reflect on it.
Q: As a choreographer, what do you personally hope to achieve or communicate through your work, including MOS?
A: As an audience member, what moves me is to experience a performance and be drawn into it, to feel an emotion, to remember, to relate. As a maker, I would like to evoke emotions. I want to be able to convey what happens to me on stage.
Q: What challenges did you face while incorporating everyday objects like umbrellas, plungers, and coconut shells into the choreography?
A: The challenge was in the way these props would be amplified in the theatre, this is the difficulty, as the process of making sound effects in the post-production stage of film production is happening in a recording studio with the necessary equipment and technical support.
Despite this difficulty, using these weird props can only bring joy and play in the process and the fact that we use them seriously creates an even more amusing situation.
Q: What do you hope audiences will take away from experiencing MOS at the Dance Umbrella Festival? What can audiences expect to experience or feel when watching MOS & how do you envision MOS resonating with different audiences, including those who may not be familiar with contemporary dance?
A: I welcome the audience which is not familiar with contemporary dance to come and see the performance. MOS is a piece that by nature and due to the combination of sound, image and movement can attract people from different fields.
This is a question that concerns me anyway. "To which members of the audience is our work and our art addressed to and in what way?
How can we create a situation where more spectators will feel included?
How does our work communicate and what do the spectators take away when they leave the performance?"
Q: Looking ahead, what future projects or explorations are you excited to pursue in your work, building on the creative concepts and techniques developed in MOS?
A: Certainly, the process of transforming sound into a choreographic tool is now the way I intend to think about the next creation. As well as using objects to produce acoustic elements. So, I'm already thinking about the next stage based on that.
For further info about the performance and the Dance Umbrella festival visit: www.danceumbrella.co.uk/event/ioanna-paraskevopoulou-mos/ Header image by Julian Mommert.
About the artist:
Ioanna Paraskevopoulou is a dancer and choreographer based in Athens. She graduated from the Greek National School of Dance and is currently studying at the Department of AudioVisual Arts (Ionian University). Her artistic practice focuses on the relationship between audio-visual media and movement, reconfiguring the expansion of the choreographic field. She has collaborated, among others, with Iris Karayan, Christos Papadopoulos, Dimitris Papaioannou and Alexandra Waierstall.
She was awarded the Best Performance prize for the dance film Sans Attente by Konstantinos Rizos at InShadow International Festival and second prize for her performance in mneme [action] 21 by Maria Koliopoulou at International Dance Festival, Algiers. She was awarded the Stavros Niarchos Foundation Artist Fellowship by ARTWORKS in 2019-2020. Her choreographic video project All She Likes Is Popping Bubble Wrap was created as part of Onassis New Choreographers Festival 8. ALSIPBW was selected by several video art festivals and awarded Best Sound Design at FIVideodanza Festival, Mexico and Best Video Art at MIFVIF, Venezuela. MOS premiered at Onassis New Choreographers Festival 9 and had its European premiere at Julidans Next. She presented Coconut Effect at the 7th Danse élargie competition and won the Young Jury award. She was selected to present MOS at Aerowaves Twenty23.