Words by Giordana Patumi.
An aseptic white room, the flickering light of a neon sign and a door. This is how Dimitris Papaioannou begins a journey between antiquity and modernity, permanence, and transience, in search of light.
Transverse Orientation was presented at the Grande salle of the Comédie de Genève in Switzerland on April 10, 2022, during the Greek choreographer's world tour of his latest creation.
Over the course of a good hour and a half, absurd images are juxtaposed with poetic scenes that seem completely foreign and at the same time strangely familiar, always with an absurdly humorous twist. One could go on endlessly describing what happens on stage, but its effect lies beyond words. A performance that confirms Papaioannou as a visionary: as the most powerful creator of a scenic language that intertwines the body with visual images.
Watching Transverse Orientation, we feel that we are in front of a sort of compendium of the history of man, represented through visions that are continually interrupted and renewed, often pervaded by an invigorating irony. The fruition is a relation of the eye that looks, of the spectator, of his previous knowledge and this creates many different shows. One lets oneself be drawn more or less into a path which, as an aesthetic, always remains a little distant, like magic descending from above, which must astonish and succeeds in doing so more if and when it vibrates in those who see it.
Transverse Orientation offers an uninterrupted overlapping of scenes that get stuck in incredulous eyes overflowing with wonder, forcing them far beyond the limit of imagination.
On a plain white back wall, which creates a simple, clear space, hangs a single neon tube that seems to speak. Its audible flickering gives orientation to seven black, identical figures, all carrying small, faceless heads on their shoulders and grotesquely squabbling over a black ladder. In a futuristic dimension, dominated by the play of light and shadow, men dressed in black, creaking like mannequins, are intent on a spasmodic struggle on a staircase from which they climb up and down trying to fix a broken neon light, as if to reproduce the obstinate nonsense of existence.
Then, a new figure is introduced to the scene in the form of a Minotaur, a mythological monster killed by Greek hero Theseus. It's a bull brought on stage and animated, to the music of Vivaldi by eight performers (Damiano Ottavio Bigi, Å uka Horn, Jan Mollmer, Breanna O'Mara, Tina Papanikolaou, Łukasz Przytarski, Christos Strinopoulos, Michalis Theophanus), who, inevitably, refer to the young Athenians sent every year as sacrifices to Minos to serve out the murder of his son. Their bodies, with perfect mastery, become legs, tail, tongue, beating heart of the animal. The huge bull, symbol of untamed power and animalistic masculinity might also represent Zeus, who steals the beautiful Europa – an almost overused symbol of the patriarchal world that is becoming fragile.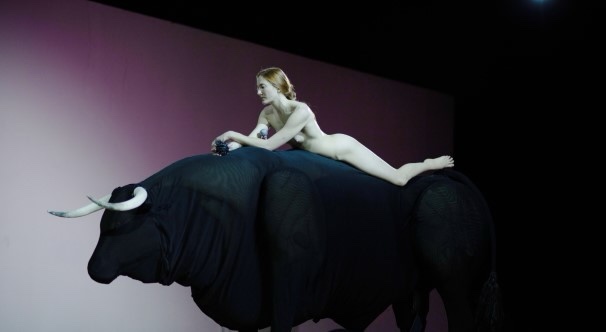 At the beginning, the bull is hard to keep in check. The sound design with deep rumbling basses by Milanese composer Coti K makes the scene even more realistic, even more threatening. It is the great art of theatrical suggestion how Papaioannou's dancers now bring the life-size animal dummy to life. But the bull is tamed and soon drinks from a bucket of water, a dancer's hand becoming its red moving tongue.
But immediately afterwards we see him imperturbably intent on building a Tower of Babel with difficulty, which shortly afterwards will come crashing down on him, inexorable. After the death of the bull, life. A shell-shocked woman, resembling a Botticellian Venus, generates life from her entrails, a life that is then decomposed in her hands, a blurred boundary between power and action. A Renaissance painting, full of beauty and horror, fruit of the greatness of the artist's genius, who is a master of aesthetics. So here are the references to rupestrian art, to Bosch, Botticelli, Leonardo and Matthew Barney, to whom at one point he refers a Madonna in a shell from which white placenta drips.
Papaioannou handles myth by stripping it of space and time and transforming it into a container of visions, into a hermetic poem in which sense succumbs to wonder, in which language is translated into movement and movement into enchantment. The performers wear black suits (costumes: Aggelos Mendis) that repeatedly contrast with the bare skin. Here, too, there is a double bottom: the seriousness of professional life – often heightened to senselessness – meets the exuberance of sensual play.
In his mind, the structural limits of a theatre also crumble, to the point that the stage boards, with incessant work, are dismantled and superimposed, at the end of the play, becoming the sides of mountains overlooking a sheet of water, a primordial element and vital principle, symbolising, once again, regeneration.
Even if the bodies are sovereign here, the dance steps are almost absent from the writing. The play is based on a completely different type of movement, more existential: metamorphosis. A hand changes into a tongue. A couple moves to form a monster. A group moves into a bull, which itself becomes both Minotaur and Trojan horse with its belly full of people. A man acts as a mermaid, while a woman melts into the springs of a bed-shaped trap, and two-headed, four-legged creature wanders around showing off his hybrid pair of bare calves and his pair of clothed legs…
Going through a performance by Papaioannou is a bit like letting oneself be guided in the poetry of action that seeks beauty and in the flow of time that passes from one completed image to another. Theatre as frenetic action and as still images. Not words but glances, not words but pictorial figures in movement, not words but photographs of the moments of action, not words but archetypes that try to reach consciences, at different levels.
Once again, in Papaioannou's hands, reality surrenders to the dream.
Back in October 2021, I had the opportunity to talk with Dimitris about his new work and his approach to creation, fast forward finally in April I was able to enjoy his work live!