Words by Giordana Patumi.
For the sixty-fourth edition of the Festival dei Due Mondi, in Spoleto (Italy), dance is the protagonist of the last weekend of the Festival. Friday July 9 at the Teatro Caio Melisso, Spazio Carla Fendi debuted Muyte Maker by the young Franco-Portuguese choreographer Flora Detraz.
The main dancers, Mathilde Bonicel, Inês Campos, Agnes Potie and Detraz herself, construct a representation of women in a patriarchal society through a series of amusing and scabrous episodes. "Muyte Maker comes from the ancient Flemish language," Detraz explains, it means "mutiny," but also "birdcage." This double meaning, evoking both freedom and entrapment, fits the piece very well. I personally also really like the sound of those two words combined together; they stick on the tongue and can be difficult to pronounce, and that gives them potential for imaginary meanings.
In Muyte Maker language is sliced and blended so that we hear texture rather than words. The concept has a strong subterranean connotation; it seems to emanate from an archaic, virtually hidden language, which piqued my curiosity.
The women sit at a table dressed matronly, their braided hair clamped to seemingly irrelevant tools including chisels. Together they sing cacophonously, their sneering faces adding to the mad mash up of the domestic and grotesque. It feels like they are being pinned down by invisible shackles; they are at once beautiful and ugly. Much is left open in Muyte Maker.
At 8:30 p.m., at the Teatro Nuovo Gian Carlo Menotti, Le Lac des cygnes, by choreographer Angelin Preljocaj, was on the programme. The musical masterpiece by Pyotr Ilyich Tchaikovsky is accompanied by the contemporary arrangements of the 79D collective. While remaining faithful to the dramaturgical structure of the famous ballet, Preljocaj brings to the stage his version of the myth of the swan-dancer, focusing on the impulses of each character, with an eye to ecology and the future. In an industrial metropolis, with water disappearing due to global warming, the black swan is on the verge of extinction, as the choreographer recounts: "On the shores of a lake, Rothbart wants to exploit a fossil energy deposit. A young girl, Odette, seems to foil his plans; he will turn her into a swan. Elsewhere, at a party, Siegfried goes to oppose his father who wants to join forces with Rothbart to build a factory on the shores of Swan Lake."
Born in Albania, trained with Merce Gunningham in New York, for more than thirty years Angelin Prejlocaj has been leading his Ballet where he experiments with the interaction between dance and virtual reality, as in Portraits in corpore, and between movement and sound elaborations, as with John Cage in Empty Moves (2004). He approached classical ballet with the Orwellian Romeo et Juliette (1990) and the imaginative BlancheNeige (2008).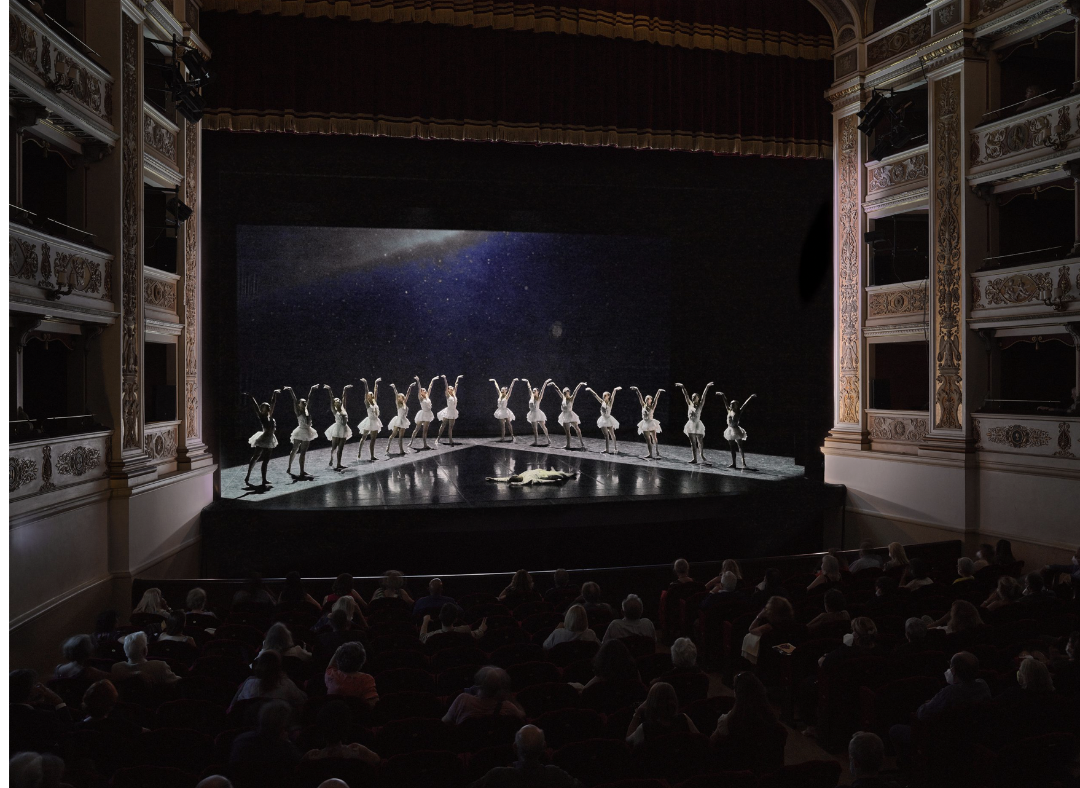 Photos: Studio Hanninen.