Words by Katie Hagan.
Raze Collective's work in progress night at Stanley Arts – featuring a line up of stunning and stellar artists Elle Fierce, Wet Mess and AZARA – was an absolute belter of an evening. Sexy, daring, tender and emotive, the evening was all about celebrating Raze's Let Us Raze You LABS, a programme which helps queer artists take their next steps in their journeys as makers.
The evening took audiences on an odyssey of work by trans, drag and queer artists. We laughed, felt a whirlwind of emotions and at times nearly cried, in what was a night of brilliant works totally unafraid and unapologetic in their approaches.
First up was Elle Fierce who performed "bo:DIED #1", a piece exploring radical solidarity and intersectionality. We (the audience) enter into Stanley Arts' main performance space, its roof arching over us. Seats are placed in a crescent shape in front of a what looks like a sculpture; limbs protruding from what could be interpreted as a monument made totally of chairs.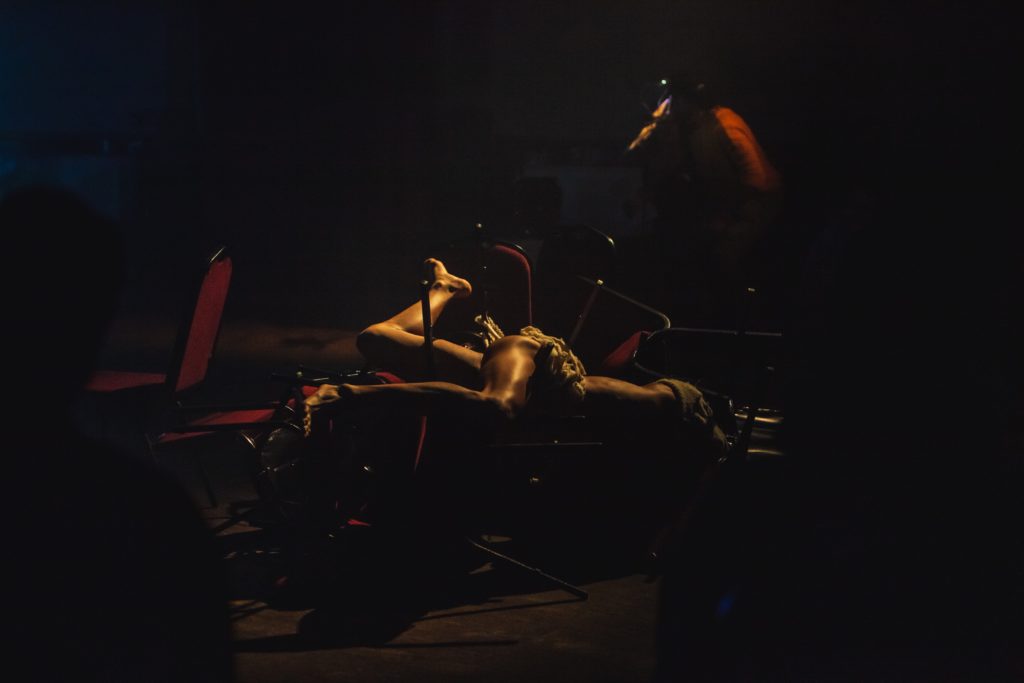 The monument collapses as Elle emerges frantically from this chair rubble – in a Cafe Muller-esque way – and then goes on to lip-sync to Lauryn Hill's tremblingly soulful 'I Gotta Find Peace of Mind'. This part has a dancing-in-your-room kind of vibe to it; it's intimate and private. As an audience member you feel like you're interrupting a deeply personal awakening or reckoning. Bringing Hill's poetry into existence through movement, Elle is clearly trying to negotiate their power and self-love whilst battling deep trauma. Towards the end of this phase she goes around to audience members in the first row holding a mirror. Inviting us to look at ourselves, did this mark our time for introspection? For us to consider our status as witnesses or viewers of someone who seems so vulnerable – who is experiencing something we may or may not understand?
This moment leaves us in a nice bit of suspense for us to think about how we feel. Suddenly, though, the work shifts to something sexy with Elle strutting to a track sampling Cassie's 'Me and U'. Running and darting around the performance space, this part is dripping with both frustration and euphoria, and I enjoyed the ragey-ness of it against the previous section.
"bo:DIED #1" is a beautiful and awakening work. Although there were points where I couldn't hear some of the text that Elle read out, it totally didn't matter as I understood and felt what Elle was saying purely by their tone. Elle brought the audience along throughout this work and made you feel something that I think all audience members want to feel when they watch live performance.
The second piece of the night was by the inimitable Wet Mess who is taking the London drag scene by storm. Pretty much each performance that they do involves Wet Mess taking on a new persona… wearing these outrageous costumes and becoming these larger-than-life characters. On this occasion at Raze's work-in-progress night, Wet Mess donned a taffeta looking white gown with trackies underneath. I'm thinking fluffy marshmallow gym guy?
Entering onto the stage, Wet Mess pulls back the curtain in a very 'Here I am!!' theatrical and camp way, walking down the steps of Stanley's Arts' unused stage and into the performance space below. They cast half of a cut apple to each side of the audience; a delicious and funny treat of a moment.
Audio starts to play overhead. Quotes that feel like they're from commercials aimed at men play. Tapping into the toxicity, Wet Mess's movement complements the audio; they grimace, gyrate and hump so much so that you can taste the sweaty, pervading smell of gym guy testosterone in the space.
At the end Wet Mess steps out of character, baring their self on stage by taking off their prosthetic chest top. There's a nice bit of programming here as Elle bared their naked self in a similar way onstage.
It feels weird or uncomfortable to interpret through words what both of them were feeling in these moments as I feel like words fall short… all I can say was that it was deeply moving and so beautiful <3.
The third piece takes a fire in the booth kind of approach with AZARA aka Mr IPM – International Pussy Magnet. This work is very much connected with Wet Mess' piece that parodies or spoofs toxic masculinity, but it comes from a different intersectionality. Mr IPM and his band of bros galavant around the world wanting to sleep with as many women as possible. They compare different brands of rum, drink Magnums (a cherry wine that makes you horny), go to Shagaluf and talk about cumming on girls. They basically just talk a load of shit, and as an audience you're caught between loathing and feeling kinda sorry for them. This work is hilarious and gets so many laughs from the Stanley Arts audience. It's deliciously lewd (we see a staged sex act enacted behind a screen), bold and absolutely brilliant.
This was a fab night of work from queer artists. I left the show realising how much we love watching and being part of performances. Special mention also goes to the night's compere for being so glamorous and radiant in glittery red!