Words by Bengi-Sue Sirin.
Y2K is having a moment right now, but I hadn't yet seen that cross over into the dance world. Until last Wednesday at the Barbican Centre when I saw the latest piece from South Korean choreographer Eun-Me Ahn. In 'Dragons', all six holographic dancers and several of her eight on-stage dancers were born in 2000, a year of the Dragon on the Asian Zodiac calendar. Ahn, herself recently sixty, has a refreshingly positive outlook on the young and the new. 'Dragons' was conceived in 2018 as an invite to 'young dancers from all over Asia to make a piece together,' but the pandemic had other ideas. Instead of giving up though, Ahn went with the flow of interconnecting technologies and a new 'Dragons' took shape.
The set was at once blast from the past and futuristic. A stage border of metallic tubing a la Noo-Noo from Teletubbies cascaded from ceiling to floor. Their tubular tumescence reminded me of the stretching curves of the Chinese New Year dragon dance. Then, something odd popped out from between the hoover walls; a sort of couture mish-mash of fabric, kind of how a child might assemble a giraffe from household items. It lollopped amusingly along, followed by another curiosity, this time a creature with a boat for a head and odd pink n' green socks. This captivating start set the tone for the piece – strange multi-material collaborations in a technological landscape. With a sprinkling of odd socks!
A multi-material section I really enjoyed was when the dancers had some of the Noo-Noo coils on their hands, joining them together in a giant Slinky arm. At this point the music was playful electronic that sounded like giggles, lending a big youthful energy. The dancers moved their hands in swirls and whorls, transforming the space in front of their chests into electrical currents, as fast as the speed of light. The phrase 'technology at their fingertips' sprung to mind. I loved the way they scurried to and fro like cute odd-socked avatars tangled in the world wide web, but I must say, the imagery of wires and coils did strike me as a tad dated. Everything is very much wireless these days! However, I can't deny that it looked very cool and made me smile.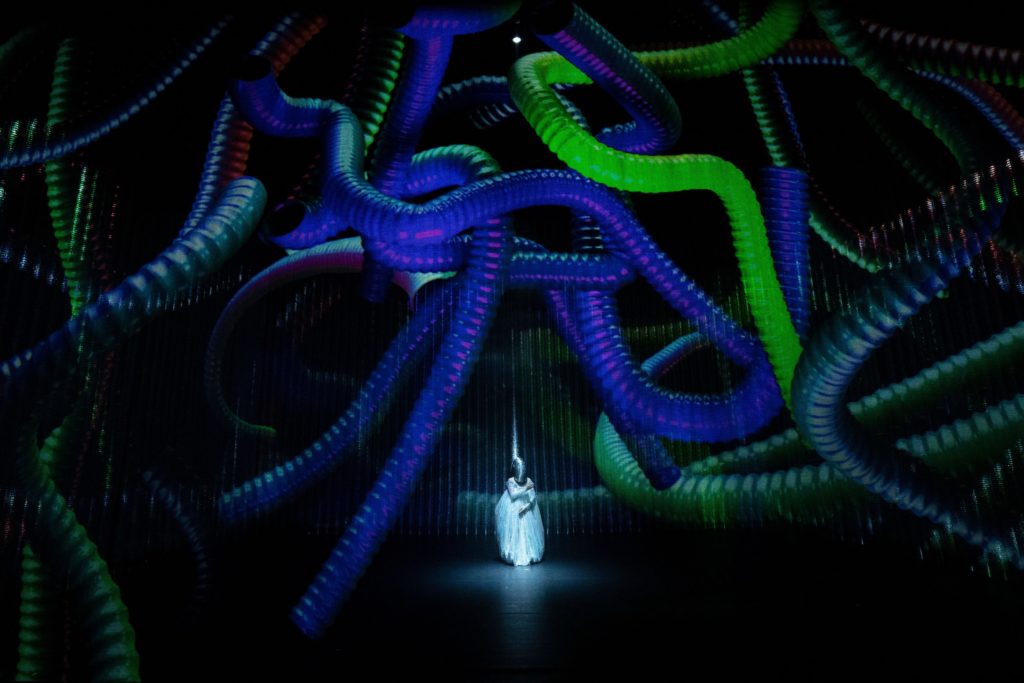 I cannot fail to mention the digital dancers, too. Imagine that the fourth wall was really a computer screen, and you get the idea. That is the surface on which they danced! Sometimes enlarged to a godlike size, at others true to human scale, these imposed figures were used in a myriad of clever ways. I vividly remember one on-stage dancer spinning, whirling dervish style, into the centre of the space, to be swiftly replaced by a digital version. The swap happened seamlessly like a trick of the eye. Later, water poured digitally from above, allowing the on-stage dancers to stay dry while they danced in the rain. Dancers moving delicately in pared down kathak style were suddenly encased in beautiful light bubbles, in a rare moment of calm within the spectacle. Certainly, 'Dragons' chooses to be extremely tech-positive, not only in its creative use but also its joy in doing so.
It was a delight to see Ahn herself dance. She took on two solos, dazzling in both, but the second particularly stood out for me. With intensity not far off from that of her late friend-cum-mentor Pina Bausch, Ahn moved in a somewhat traditional Asian dance style, heavy on the heels and far-reaching with the fingertips. I must admit I am no Asian dance expert and I draw on a very limited pool of knowledge here, but movement characteristics aside, the whole solo was a nod to the place of tradition within the new. At one point the traditional, calm music changed to a sort of remix of itself, and Ahn stopped moving as though she had given up trying to fit it. But slowly, then surely, she gave the new music another chance, gradually speeding up and getting back into it. By the end of her solo she was quite happy! A somewhat obvious metaphor for merging tradition with the new, but a superbly danced one.
And how did 'Dragons' conclude itself? With a mighty ensemble piece at high tempo, transposing the digital dancers both over and within their on-stage counterparts, performing a half pat-a-cakes half skipping rope routine at 5G speed! It was crescendo in pure form. There was a touch of Abba Voyage, of TikTok dances, of Zoom calls and of social media profiles… Other reviews of 'Dragons' are mixed, and I must say I agree with some points made about chaos. But for me there was respite, all the more memorable for the contrast, and a rare hopefulness about the future generations that big dance institutions could do with more of. I am very pleased I saw 'Dragons,' it was a unique experience which I feel earned its roaring standing ovation. It certainly 'threw' us into a throwback, yet pertained to its own distinct vision. What a way to outdo Covid!