Resolution, The Place's annual festival for new choreography, returns this year running from 18 May – 16 June. It's the UK's biggest festival for dance, bringing together the hottest works by artists spanning different disciplines.
This year the festival features multitudes of artists from various disciplines, with work from artists that we've platformed or written about including Fimbo Butures, Allouaqui Dance Theatre and Oluwaseun Olayiwola.
We've put together a list of the shows that are happening over the course of this festival – check them out below!
Is Any Body Home? By Wency Lam
Taking place on 19 May, Is Any Body Home? is a contemporary dance/ physical theatre performance exploring the in-between space of the overlapping of multiple identities. Devised and performed by Hsinyu Wu and Esme Lovell, with materials by Liane Lang and sound design by Michael Tang, Is Any Body Home? works with the embodied uncertainty, crisis, and chaos that arises in the in-between space where previous identities have dissolved and no clear identity is established.
Visit here to book.
The 12th Floor (comprised of Charis Crudgington and Mette Nilsen) will also show work on 19th May. I'm sorry to disappoint you all is an ode to perceived failure. Intertwining eclectic movement and film projection, set to a soundscore by Phoebe Coco, two friends tangle together. Cocooned in their small flat and swallowed by the vastness of the city, the unravelling begins. Will they ever make it? What does making it even mean anyway?

Visit here to book.
Annelise Bucher's RELAY is an emotional chain reaction. The entirety of the chain reaction begins with one dancer who isn't paying attention to their surroundings, or to their impact they have on the world around them. Each collision leads to unexpected connections and emotional journeys between the characters. Each dancer has a musical melody that plays when they move – as the dancers meet and interact, their melodies mix and layer to create unique and playful music tracks. RELAY is supported using public funding by the National Lottery through Arts Council England and supported using funding by The Fenton Arts Trust.
Visit here to book.
---
Anti/thesis III by Alex Groves and ZE
Alex Groves and ZE have created Anti/thesis III to be performed as part of Resolution on 20th May. Blending acoustic and electronic music (this time with saxophones) alongside highly physical movement which draws on subverting traditional dance techniques in a way which enriches the bodies capabilities 'Anti/thesis III' is a feast for the senses.
Visit here to book.
---
Still Changes by ALICE + SYNNE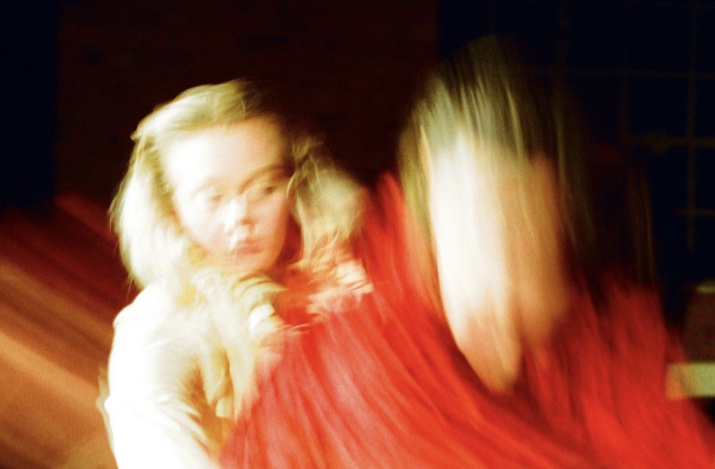 Still Changes by choreographic duo ALICE + SYNNE is a tale of change and transformation, inspired by Ovid's Metamorphoses. Still Changes started off as a duet in 2022, premiering at Ugly Duck, London and has been developed it into a six-dancer performance to be toured in the UK and across Europe. It will premiere at Resolution, The Place on 23 May 2023.
Visit here to book.
Also on 23 May is Dom Czapski's Funeral Music. Audiences are solemnly invited to this show, a fever dream death ritual for HR Managers everywhere. A new dance/theatre/music work by Dom Czapski and Jamie Hamilton featuring Christopher Preece and lighting design by Luke Marino. Special thanks to Centre 151 and The Place for their generous support. Book via the link above.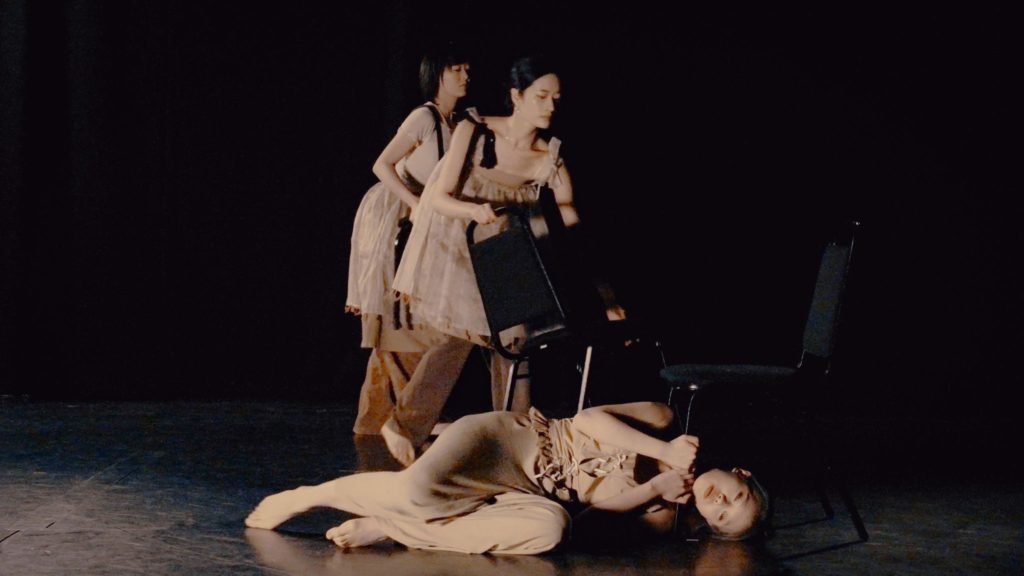 Drifting by Phoebe Shu-Ching Chan is a dance performance that explores the complex emotions of feeling disconnected from one's surroundings and embarks on a journey of self-discovery. Intertwining different perspectives and stories, the performance invites reflection on the questioning and redefinition of identities and belonging. Book via the link above.
---
Little Bimbo by FIMBO BUTURES
Dance artists FIMBO BUTURES (Maya Williams and Lizzy Tan) featuring Badushka return to the stage with Little Bimbo on 24 May. Little Bimbo blurs the lines between the real and virtual as live and digital performers' movements scroll through contemporary dance, sex work vocabularies and meme culture.
Visit here to book.
---
Lesbian Dance Theory by Loren McK
Lesbian Dance Theory is a seriously humorous lecture and multimedia performance which centres around dialogues, practices, histories and futures of those who identify as, with or adjacent to the term Lesbian. Featuring interviews with Florence Peake, Eve Stainton, Jules Cunningham, Shivaangee Agrawal, Eleanor Perry and Jay Yule. Loren takes on the right-wing hyperbole that the arts is a waste of time (and money).
Visit here to book. Taking place on 25 May.
---
soft surge by Nadine Elise Muncey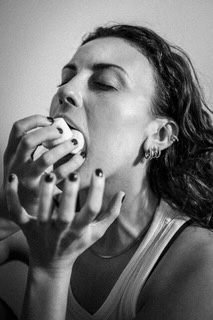 Whipped up with sugar, water and gelatine into a solid-but-spongy consistency, that's shoved between your teeth. Bite. Chew. Have another. And another. Again and again and again and again. Again. Again. Again. Soft, sweet, gentle, caring, delicious, love, surrender, sigh, melt, sticky, aching, gross, chewy, sore, disgust, frustrated. On and on and on and on.
soft surge is a contemporary dance work that aims to explore the understanding and complexities of tenderness. This word that is loaded with information and energy, towards the self, to others and to pain. Showing at Resolution Festival on 26 May. Visit here to book.
---
Life goes on by Ed Mitchell
Taking place on 27 May, Life goes on by Ed Mitchell explores the challenges we face in navigating life's unexpected obstacles. When two people are faced with adversity, how do they confront it? In collaboration with the dancers, this work will reflect our choices when faced with scenarios through their detailed physicality in storytelling.
Visit here to book.
---
While Remembering by Mandy Tan and Malachi Briant
On 30 May, Mandy Tan and Malachi Briant will perform While Remembering, a pieces that seeks to physicalise the feeling of nostalgia and memory. Mandy Tan and Malachi Briant are young emerging dance artists based in London who met whilst studying at Trinity Laban. While Remembering invites the audience to dive into their memories and notice the questions and emotions that arise. What came to mind? How does it feel to remember?
Visit here to book.
Also on 30th May is Florencia Guerberof's Illness reaches its crisis in a dissolving sweat. This work is about the making of a dance piece having contracted Covid in the process. Along with dancers Florencia Guerberof, Gail Sixsmith and Thelma Sharma, lighting designer Maria Guerberof and music from Bendik Giske, through angst and nausea, the dance becomes an imaginary purge in a soundscape of life force pulsations.
Visit here to book.
---
That thing by Fuse Collective
Combining large-scale projection, contemporary dance, live music, and spoken word, That thing by Fuse Collective conveys, with honesty, the truth behind chronic illness. It speaks the unspoken thoughts, and manifests the intangible, with hope that his honesty will challenge perceptions about what disability is and what disability can look like. That thing was first commissioned by Dancin' Oxford with support from Pegasus Theatre and comes to Resolution on 31 May.
Visit here to book.
Also on 31 May is If I Wanted I Could Use This Time Wisely by Naomi Chockler, which reimagines familiar settings from our day to day lives as playgrounds for minds to wander, questioning the real and exploring the imagined. Audiences will witness precious moments of intimacy as a fight against repetitive cycles; searching for a feeling of presence and connection. Proximity will be displayed as both safe and invasive, 'the daily commute' as both a comforting bubble and an inescapable fate. Dancers and co-creators are Alex Gosmore, Alice Marriott, Grace Ford, Imogen Wright and Rose Lewis.
Visit here to book.
---
Bhai by Hamza Ali
Bhai /b??/. Noun. A brother. A friendly address for a man. Bhai is a playfully dark dive into the intersections of movement and masculinity for brown men in Britain. What is the function of corporeality in the places where men seek brotherhood? From prayer rituals and pints, gym culture and gender roles, Bhai uses physical theatre to caricature stereotypes and cultural hybridity – shining a light on the shadow of a man. Bhai is created and performed by movement artist Hamza Ali and actor/writer Azan Ahmed and takes places on 1 June.
Visit here to book.
---
Giselle, this time it's about me by Hebe Salmon
A classical ballet tale reimagined through a series of phone calls, Giselle, this time it's about me by Hebe Salmon is a solo dance-theatre work exploring communication, relationships and memory with subtle humour.
Visit here to book. Takes place on 7 June.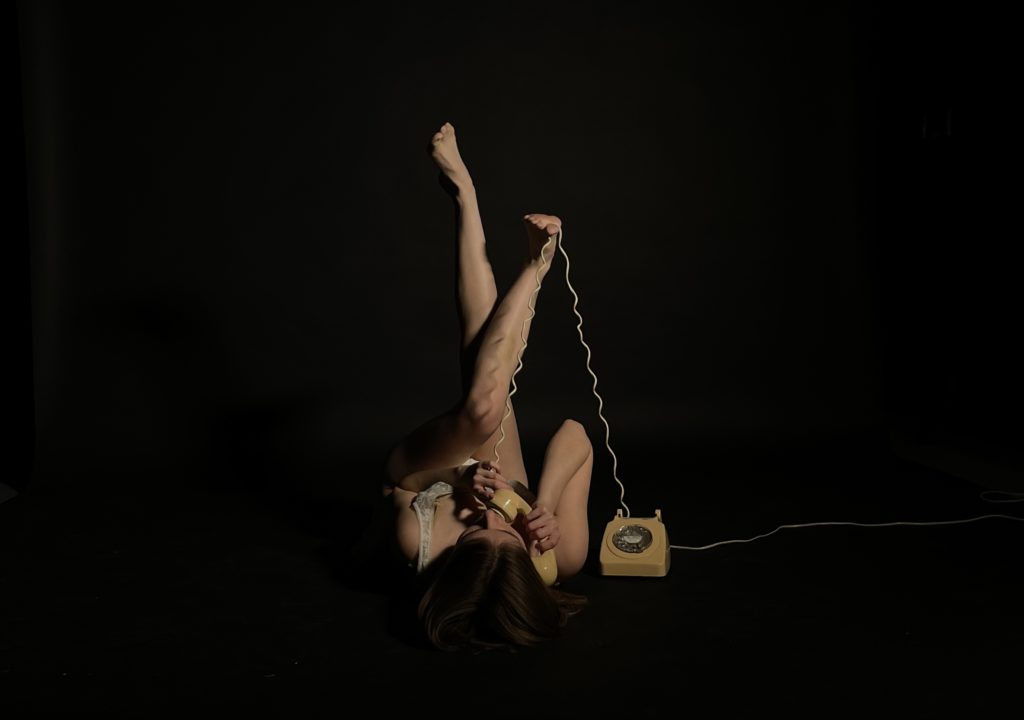 ---
I Can't Take My Body Off by Chewed Pink
Queer-led dance theatre collective, Chewed Pink, will premiere their piece I Can't Take My Body Off, on June 8th at Resolution Festival 2023. The piece delves into female relationships; to others, to the world and to ourselves. Sweaty palms cradle flushed cheeks, heads butt, limbs entwine, teeth snap and fingers pull at pinched lips blurring the line between sensuality and violence in a struggle to connect and be seen.
Visit here to book.
---
I wonder if this may be held by Fabio Pronestì
Fabio Pronestì shares a reflection about what holds the encounter together in his work I wonder if this may be held at Resolution on 13th June. In collaboration with Lorenzo Tombesi and visual artist Denise Aimar, a series of glimpses from the past emerge through a walk, tracing countless paths which craft the space as a possibility for each other to let go, whilst involving the audience in their consequential unfolding.
Visit here to book.
Also on 13th June is Alpha Misfits by Scilla Rajalin. In collaboration with composer Zacharias Wolfe and the performers, Scilla Rajalin explores the idea of live documentary, playing on the border of "truth" and balancing between narrative, exposition, radical honesty and utter rubbish.
Visit here to book.
---
Play by Play by Nicola Adilman
Nicola Adilman's Play by Play began as a duet in 2019 and is now being developed into a quartet (dancers/collaborators are Jacob Elliott Roberts, Jay Yule, Tylee Jones and George Frampton) that explores sports images, comedic storytelling, competitive relationships and athleticism through the intertwining of bodies. While being curious about the vigour and physicality of the sport world, Nicola pokes fun at its performative, exaggerated and ultimately silly nature. The world of sport is known for its peculiarity in separating men and women. Play by Play aims to create a contemporary atmosphere that is fluid in its idea of gender.
Visit here to book this performance on 14 June.
---
3m² by Nikita De Martin
London based freelance dancer presents her solo 3m² on 15 June. Nikita De Martin is a freelance dancer and performer based in London.Travelling inside the artist's personal stories as an uprooted woman 3m2 touches upon different states of bonding, through relationships, landmarks and body heritage. Merging movement, sound and materials, the artist outlines the limits of her body house while addressing rootlessness and solitude as protagonists of a wider generational identity crisis. 3m² is a little shared truth that invites you to participate with proximity. The wood, the stones, lit castings, and a landscape of authoritarian aural memories contribute to the creation of an afterlife, at the same time strong and vulnerable.
Visit here to book.
The 15th June will also see B brain(s) by Sanya Malnar x Marianne Raynal take to the stage for the first time.
B brain(s) is a hybrid, hyper-visual contemporary dance piece. It presents itself as an eerie, introspective experience, one you might not have considered before.
'For as long as we can remember, we both have been fascinated by how individuals sense the world very independently from one another. We can never escape our bodily envelopes, disconnect from the objects of our direct thoughts and feelings, nor be sure if our perspective is objective.'
The work invites audiences to reflect on existential perception while combining dance, contact, and play on a modulating, immersive musical soundscape. Bodies move in expressive garments and merge into the scenography, poetically depicting life occurrences.
For more information on these works and the many others at Resolution visit The Place's website.
Visit here to book.
Andrew Scott's A Three Part Drama is also taking place on 15 June at Resolution. Trapped in an endless series; Andrew Scott finds himself in the same scenes as he was in many years ago, and feels these scenes will forever repeat itself in times to come. Filled with lonesomeness and confusion, Andrew longs to tap the fast forward button in hope to break the loop and feel anything but this.
Visit here to book.
---
If you're showcasing work at Resolution and want your show to be featured, get in touch!