Words by Stella Rousham
"If I go to see performances or performance art, I miss moving, dancing or being somehow bodily shaked."  
inklingroom is an art platform, club night and record label created in 2020 by Keity (K) and Michal (M). The duo met in 2019 at the East London nightclub, FOLD, which they both hold dear to them. That night a connection was sparked that was pursued and nurtured into what, one year later, came to be known as inklingroom. The idea behind this creative project is to merge club music with a platform for emerging artists to showcase their work – whether that is choreography, fashion or art installations. With Keity's background in contemporary dance and Michal's in DJing and music management, inklingroom is a nest for movement and rhythm that's rapidly growing to support up-and-coming artists in London and beyond. Dance Art Journal writer, Stella (S), welcomed Spring at their latest event in March 2022 and spoke with them about the past, present and future of inklingroom including their upcoming London-based event on the 10th June 2022.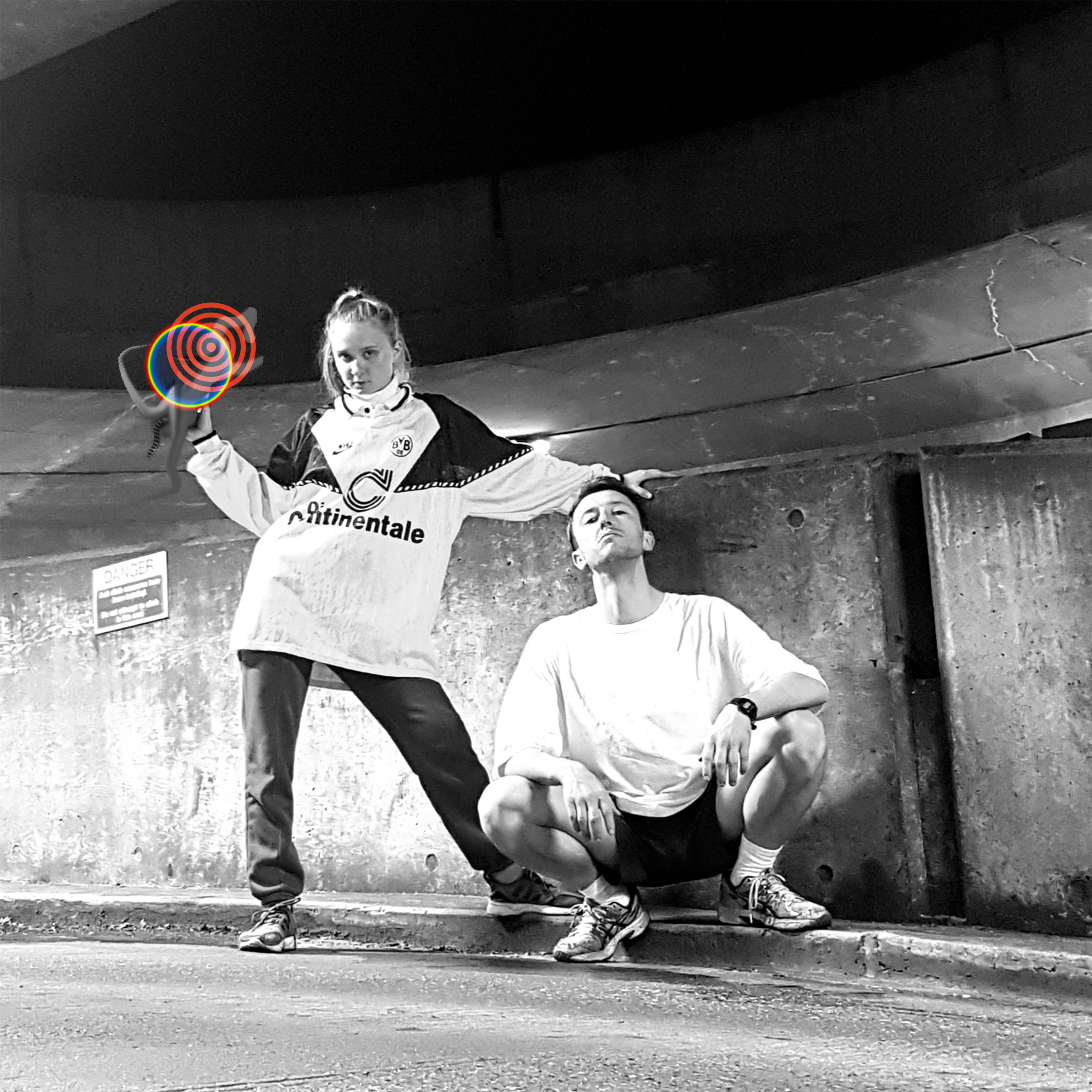 S: What were your main motivations for starting inklingroom? Had you seen similar events? Or did you notice a gap?
K: I've been to amazing raves and amazing performances. But then, I haven't really experienced something which put the two together. That's what we wanted from inklingroom. If I go to see performances or performance art, I miss moving, dancing or being somehow bodily shaked. It's always like, you sit down, you observe, you take in, and then you talk about it. For me, it was really important to give a chance to our audience to celebrate and dance, as well as watch.
M: Much of inklingroom is rooted in club culture. The main inspiration for me was making a hybrid of club music, experimental music and performance. A way of blending these different disciplines, combining completely different artists from completely different worlds. There are similar events series that I know of in Berlin. Curating and programming is a big part of inklingroom, making sure we have a range of artists – both in music and dance – who are at different levels of establishment. We want our events to be spaces where people in different of stages in their career can meet and present together, in a way that does not rank one as more important than another.
S: Similarly, as a dance writer, I find that a lot of the time I just want to respond to what I've seen by being part of it, by allowing the movement to spark movement in me. The solo choreographies in the event I saw were powerful and it was interesting placing them alongside DJ sets. I felt like the performances were important for bringing the audience out of themselves and opening their gaze throughout the room.
Reflecting further on my experience at the latest inklingroom event, the importance of collaboration and creating a safe space really came across, both in terms of the diversity of audience and hybridity between different art forms and genres.
Collaboration, I discovered through the interview, has been at the heart of inklingroom since its inception. The first inklingroom event, launched just a week before the first COVID lockdown in March 2020, involved nearly forty different artists. As a recent Master's graduate from London Contemporary Dance School (LCDS), the event drew on Keity's connections with fellow students from LCDS and neighbouring fashion students to provide a collaborative platform for show-casing their work.
K:…all these different universities, which are very separate in London, actually don't really collaborate, you're so busy with your course and everything. It was so amazing to see all these cool students together, collaborating. After that event some composers and other artists continued to work together.
M: In lockdown we were thinking of how we can carry on with connecting music, dance and other art forms. That's how we started working on the record label idea. And now, after a year and a half in the making, we have started releasing new music, working with composers and connecting them with choreographers and dancers to create music videos and dance films.
S: You briefly mentioned before that programming is an important part of inklingroom. Could you talk a little bit more about the curatorial process. How do you select artists? Is there an overarching theme for each event?
K: Every inklingroom event has been a little bit different. The first one was mainly showcasing student graduation pieces, which were already made. The second event was really small. It was more concentrated on music and DJs. For the London-based event in September 2021, we directly approached a couple of performers. In programming the March event, we wanted to keep it diverse and support emerging artists, with one slightly more established artist. For the upcoming event in June, we did an open call.
Our most recent event was on the 18th of May in Estonia. This is very special for us, because it's my home country and because we were invited to curate the pre-opening night of Baltic Dance Festival – a three day contemporary dance festival bringing together artists from Latvia, Lithuania and Estonia. For this event, we programmed it through having a written concept and encouraging artists to apply if their work and practice fits the concept. The concept broadly speaking was about embodiment, about being alive, what it means to be an embodied self, an identity, and something tangible.
S: The next question has to do with your relationship to electronic music because obviously Michal you DJ, and Keity you dance. I was wondering about what sort of potential do you both see in electronic music? What do you harness from it?
M: My background is being really close to electronic music and club cultures, as like an umbrella. I've always been really interested in DJing as an art form; how much you can express through taking someone else's music, making a collage and creating a story within a one hour timeline. When I was back home in Poland, we would go out dancing on the weekends… I sort of treat it as a kind of meditation and therapy going to the club where the environment is safe, people are friendly and the music puts you in a trance… electronic music affects your body in a way that no other music can.
K: I definitely discovered electronic music much later than Michal, I think I was maybe 21. It was a whole new world for me. It entirely changed my dance practice. I would spend hours dancing to it, almost nobody would see that I'm dancing. And I would discover my inner muscles. I would close my eyes and I would really discover how many spaces are inside my body … maybe I only moved a tiny bit but for me it totally opened a new way of how to feel my body. I think my own personal dance practice has changed a lot as a result. It's much more isolated and much more rhythm based now. So it's definitely like a big part of my dance journey and also my spiritual journey.
M: I also think club culture is very human…historically, club cultures have shaped societies, that's something close to me personally. Underground movements are cooking up in these small, micro music scenes around the world that are essentially starting in nightclubs. In the UK, club culture is kind of demonised. Recent venue closures are affecting freedom of expression. It annoys me so much that it's becoming a privilege, or a luxury to go and dance. And I wish we would move more towards what it's like in Berlin, where you don't have a curfew and you can dance as long as you want.
S: So what is the next inklingroom event in London and how do you envision this will differ from previous events that you've already done here?
M: So I think the nature of this event is slightly different than the previous one because it's based on a project that we started after receiving grant funding. It's rooted in the Creative Choreography Residency that Keity facilitates at Trip Space, where she works with 11 dancers. That's the base of the project, then we have sort of built everything else around it. It's going to be more of a performance night rather than club night, but it's also going to include DJs.
K: Michal introduced me to the DJs that had been chosen, they're all very experimental and dancey still. I feel like it's also going to be more of a spacious journey, because it's not just one space. I'm seeing it a little bit more site specific, thinking about how the performances can relate to the building and the space.
S: Where do you both see inklingroom going in five years time? What is the future of inklingroom?
M: We had originally planned to move out of London, but recently we've had some exciting news and up-coming projects that would be stupid to turn down, so currently we are staying in London. I can't give away too many details, but we got a proposal of doing something on a regular basis. A major challenge for us is booking venues. Having worked with various London venues, made us realise that maybe having our own space would be the way we could create more freely, especially as they're so expensive.
K: If we had our own space, we wouldn't need to worry about bookings. It's always such a headache to find the date, because lots of venues already have their programme's planned a year ahead of time and they're nearly always booked on Friday or Saturday, which are the best days for us. Sometimes they're not reliable and change the programme last minute.
The way Keity and Michal speak about their ideal iteration of inklingroom is an open space where you can share your inklings and help others out. They point out how clubs are sitting empty during the day and how they could be used for workshops or a big residency where people can pop in and out and collaborate with other artists. This would allow for more sustained and regular interactions to take place between musicians and dancers, allowing for a deeper and more intermingled relation between movement and sound during their actual events.
K: This is actually one of our concepts. At the first event, we were really strict with set times and the performance started before the DJ finished, so there was never silence and waiting. Ideally we would find funding so at least one of the choreographers and a DJ could meet up couple of months before and create something together and then present it. This happened between Mariano Sibilia (Yraki) and I at our first event. We actually created music and choreography at the same time. Both our input was there. He would interpret my ideas, then go home and write the music for it. It was really beautiful seeing imagined dance become music.
The potential that inklingroom is creating for music, dance and other art forms to come together and learn from each other is exciting and greatly needed. If you have the inkling to feel moved by an inklingroom event, make sure to catch their latest immersive contemporary dance and leftfield club music in Hackney Wick's hidden gem – The Baths – on Friday 10th June 2022. We are manifesting more funding their way…
inklingroom Website: https://www.inklingroom.com
inklingroom Instagram: @_inklingroom_
Tickets for inklingroom event on 10th of June at The Old Baths: https://ra.co/events/1534079