Words by Katie Hagan.
We are super excited/delighted/grateful to be featuring queer faggy dance fun (q.f.d.f), a new film that spotlights queer collective joy, and cherishes togetherness after months of absence and loss.
Directed by Harry Price, queer faggy dance fun documents a dance weekend that was curated by fraserfab, O.K Norris and Pierre back in December 2020. The film is a way of remembering and celebrating this weekend, and, as Harry explains, "shows how the queer community can come together to build safe, creative and limitless spaces for the future."
"We see queer community, a multitude of different artistic expressions," continues Harry, "And hear about what it means for these performers to have a boundless space for free exploration after months in isolation. Lighting designer Joshua Harriette was in the space creating a dynamic and ever-shifting light instillation. Sound artist illyr has created an original piece of music to accompany the film. The spoken word is written and performed by fraser, O.K and Pierre."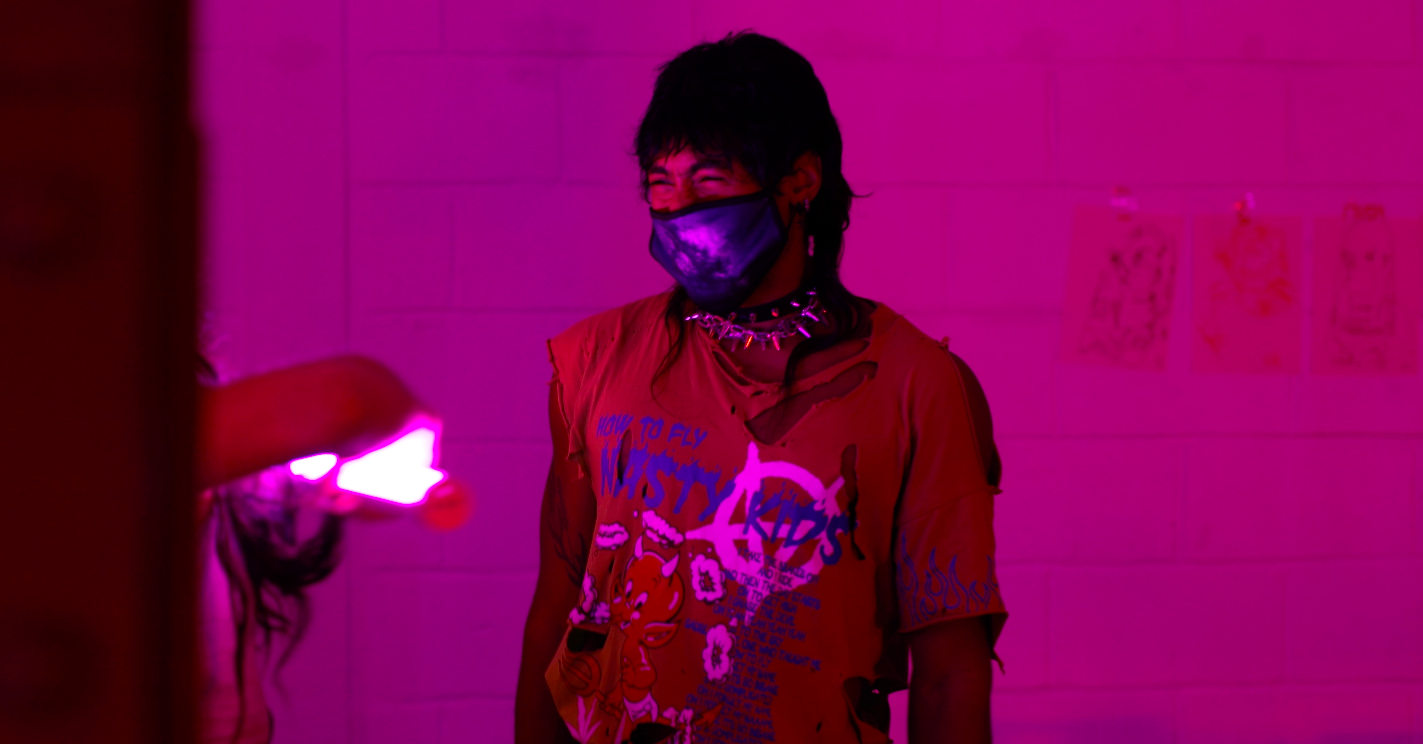 "We felt it was important to reconnect with our queer dance peers at a moment when we felt so distant from one another," highlights curators fraserfab, O.K Norris and Pierre. "Many of us work as freelance dance artists; when the pandemic hit we were forced out of the dance studio and into our bedrooms. We felt very disconnected from our community, so we organised a weekend where we could safely bring people together in a space with all the covid precautions in place."
"Dance is healing. We wanted to offer a space without any pressure to perform or share work. The soul purpose was to come together, take care of the body and reconnect," the curators continue.
"We began with group meditation and from there the space was open for each artist to express themselves however they desired. Dress up, dress down, make-up, looks, whatever they felt like. We filled the space with books and poetry to read, had a writing/drawing table, tea and coffee and a runway. Ugly Duck kindly let us use their space. We were also supported by The Chateau; their support helped us adorn the space with some sexy lights and props to make the environment feel fun, inviting and creative. We played music at full volume and joined our peers, lifting each other up and taking the space with total freedom. An opportunity to dress up, go full out and feel what it's like to really dance outside of our bedrooms again. This film is a celebration of queer collective joy."
Full credits:
Director/DOP – Harry Price
queer faGgy dance fun Curators – fraserfab, O.K Norris, Pierre
Music – illyr
Lighting – Joshua Harriette
Spoken Word – fraserfab, O.K Norris, PierreFeaturing – Danni Spooner, Ethan Jacobs, fraserfab, illyr, Iro Costello, Joshua Harriette, June Lam, Magnus Westwell, Malik Nashad Sharpe, Monique Jonas, O.K Norris, Owen, Pierre, Scout Nankin, xavia
Editor – Ben Chapman
Special Thanks – The Chateau, Ugly Duck