Words by Sophie Chinner.
The start of August. What would be the month that marks the middle of an ordinary summer, now, an extraordinary time for us all. But as restaurants, shops and pubs trickle back to more usual opening hours, most theatre doors remain shut, performances postponed or cancelled. However, despite the unpredictable challenge the Arts Industry has faced, it continues to showcase many remarkable and moving pieces of work, with outdoor performances and virtual screenings becoming popular options to turn to. Roseanna Anderson and Josh Ben-Tovim, from Impermanence Dance, did just this. 'Welcoming performers back to the stage and audiences back to their seats', they hosted 'We'll Meet Again', an outdoor Cabaret style show in the picturesque gardens of Kings Weston House, Bristol.
Grass, rugs, and socially distanced (or rather physically distanced) chairs replace the traditional auditorium, and a Harlequin floor carpets the doorsteps to the Weston House for the stage. All generations, friends and family, gather in the beautiful grounds. We sit alone, yet together, in the elegant surroundings, connected by the shared experience of the past five months and the show we are about to witness. The audiences beaming faces in the beaming sun emanates a sense of appreciation of being able to return to something that we have all missed. Live performance. 'We'll Meet Again' is the epitome of the power of outdoor performance. It is a touching show and a demonstration of how live work has been reformed.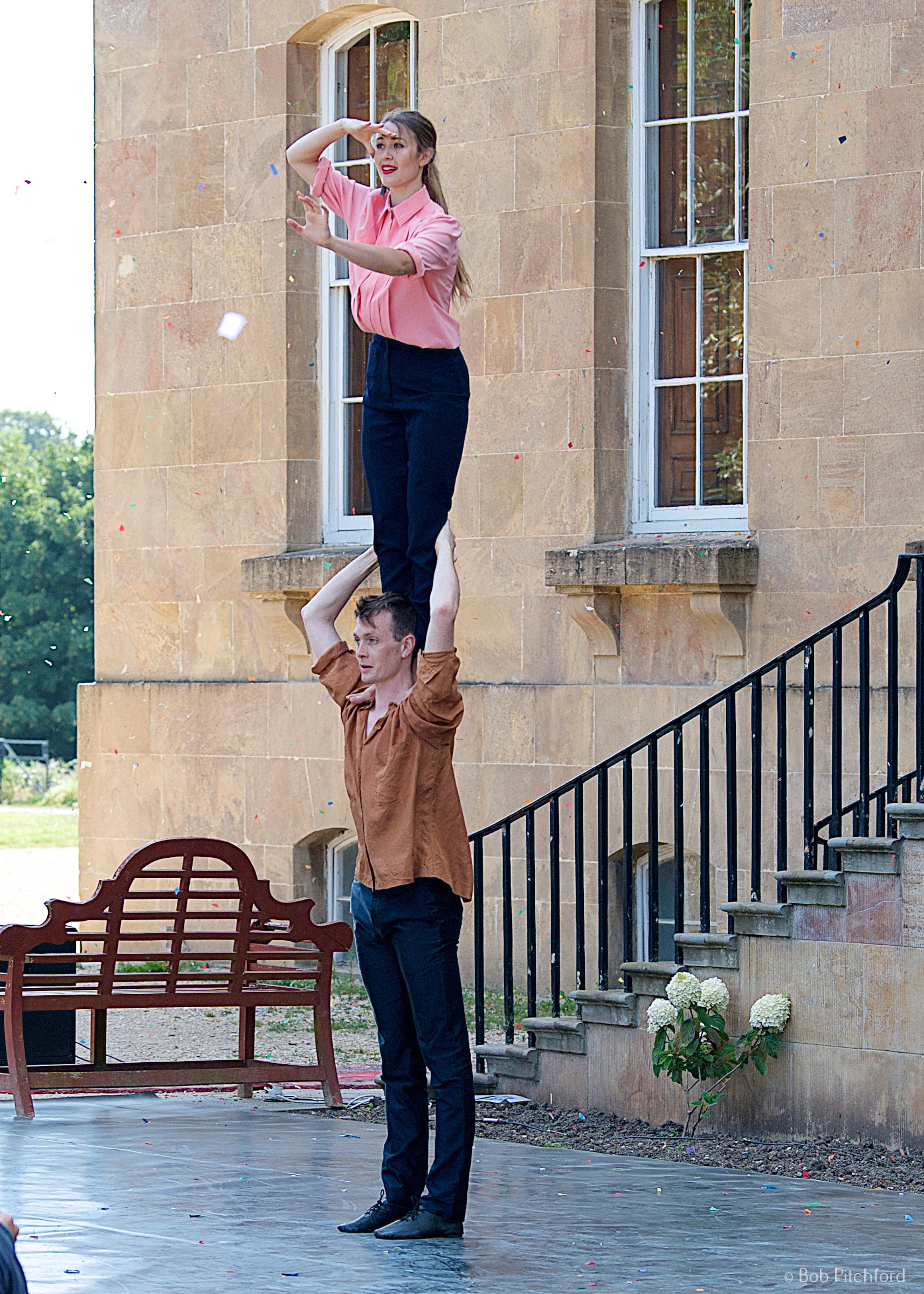 Hosted by the warm Tom Marshman, the variety programme consists of four different acts. Opening with a duet titled 'Greater Than Lion', performed by Kennedy Muntanga and Olivia Grassot, we follow the two artists in their investigation into freedom alongside the fears and ethical questioning of it. A blue piece of fabric materialises the theme of concealment and protection, as well as being used to express liberation. Like statues, sometimes they are covered by the cloth, tangled up within it. At another moment however, both performers thrust their hands to the fabric in a pleading gesture, there is a pause in the movement and music, and, as if by magic (and a little help from the summer breeze!), the fabric begins to billow and dance independently in response. It is incredible to be able to observe more closely the nuances of Contemporary Dance again which can easily be missed over a virtual medium.
We then moved on to the talented performer and writer, Vanessa Kisuule, who confidently issued us three original poems and one cover; 'Octopus', 'Hollow', 'Distant Regard' (cover of Tony Hoagland) and 'Last Night'. She is an actor, as well as a writer, able to move between characters in her work whilst simultaneously responding to and joking with the audience — even mid-way through a recital! She covers a variety of interesting and current themes including; the fear of death; what she misses about pre-covid life; a quirky underwater creature; clubbing and most poignantly, the Black Lives Matter Movement and protests. She points out an artwork from within the Kings Weston House that pictures a slave amongst white bureaucrats. Although an uncomfortable image, her point provokes thought. In her own words (paraphrasing slightly) 'Racism is happening. It is happening even here in the house', 'It is everywhere, the city was built on it.'
Guitarist, vocalist and songwriter, Andy Balcon, then performed his set. Playing a mixture of originals and covers including; The Animals' 'House of the Rising Sun' and Donna Summer's 'Hot Stuff'. There is something of Kurt Cobain in his gruff voice and effortlessly cool delivery. His work in the minor chords had a mysterious, almost melancholy effect. The audience is transfixed. The mood is mellow.
Lastly, the final act is Roseanna and Josh, Co-Directors of Bristol-based dance company, Impermanence. Their stylised, chic, little number is set to the classic wartime track 'We'll Meet Again', bringing the show back to its original theme and overarching title. The classy duet, composed of quaint movements and cheeky charisma, is quintessentially British. A fan from a top story floor of the manor blasts red, white and blue confetti. It flutters down all around the grounds in an almost satirically patriotic fashion. This piece is definitely a celebration, bringing a sense of pride to a crowd that survived and continues to survive through the pressures of lockdown.
I feel very grateful to have been a part of this occasion and applaud Josh and Rosie for their efforts to organise such a fruitful outdoor event, and their success in doing so.
Originally posted on Sophie's website: https://bit.ly/3aEYcXj
Header image: Bob Pitchford.