Words by Katie Hagan.
When I ask Jane Mason about herself and her practice, she self-effacingly says she always gets a bit stuck when people ask her. Things which are inherently within us can be hard to extrapolate. Although artists are uber adept at extracting it with their bodies, putting 'it' (whatever it may be) into words is a separate feat. Although I shouldn't force things into opposition, it is an anxiety I can relate to as both a writer and (occasional) artist straddled between the islands of dance and the written word.
Contemplating my question, Jane elucidates: "Honestly, I'm not too sure what it means. Each project I work on may have a very different context, so it is difficult to distil what I do into one concrete thing.
"Even though I'm the common thread in all the things I am doing, I've been trying to clarify for myself what the bigger story is that connects everything."
Trained in theatre but working predominately with choreography, Jane Mason has many stories to tell. A dancer, creator, frequent collaborator and mother, Jane has done an awful lot (although she'd be the last to admit it). Her latest venture is Night Flying, created and performed with long-time collaborator David Williams. It will tour to venues in the South West of England this month, beginning 11th March 2020.
"Night Flying is in some ways a continuation from my previous piece, Life Forces, created with Phil Smith. I really grieved for that work when it was over; I wasn't quite ready to let it go. Night Flying began about two years later, coming out of my close relationship with David, my friend and colleague. David has worked with me as a dramaturg on several pieces since 2006. This process was unusual because we made Night Flying together and David also performs in it. Formerly a professor of Performance Practices at Royal Holloway, David has helped me a lot over the years. He's very careful with language, reflecting back to me what he sees emerging in ways that don't undo me but open up possibilities, even from very small beginnings."
"We share a sensibility in how we work, taking pleasure in the curious relations between objects and materials, texts and movement – we can spend a long time placing different things in relation to each other to see what they do. I'm interested in work that doesn't explain itself away and Night Flying is in many ways about stimulating the imagination. The imagery will hopefully spark a range of associations for someone watching too."
"I'm always learning about what it is I'm trying to do. There can be real fragility in my dancing, in aiming to be as present as possible, particularly as I don't perform my own work very often. David and I both know something has to happen when we perform this piece; it's not just about repeating what we know, we really have to go through something and that's quite a special thing to commit to. And besides I know there is no such thing as the perfect iteration."
Jane reels off a list of objects which will appear in Night Flying. Foil sheets, sand, guitar, writings. She tells me how the sand in a bucket left over from Life Forces became central to the piece. Sometimes, Jane explains, when starting a new piece, she intuitively takes seemingly unrelated objects into the room to trigger early explorations without always knowing why.
These explorations will be taken to another sphere when the imprint of the night sky is brought into the space and refracted onto the floor. A dance-cum-planetarium springs to mind, and I childishly indulge in such a possibility. Luke Jerram's Museum of the Moon has after all enraptured audiences across the world. I daresay Night Flying might leave a similar constellation on people's minds.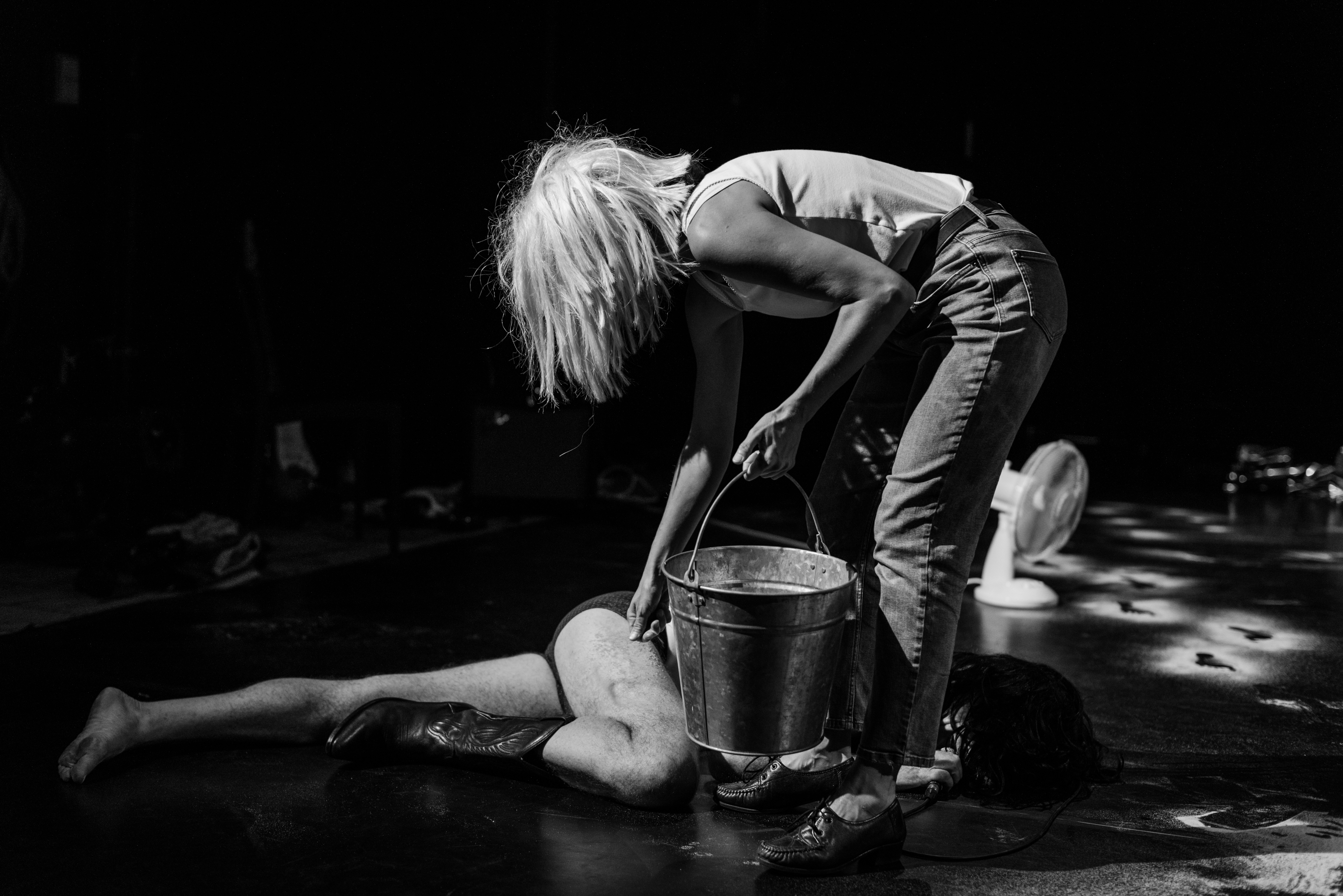 As well as devising her own work, Jane has a developed community practice — an area she is deeply connected to. "I've always worked in community contexts. I enjoy encouraging people to do something they didn't necessarily think they could do. Vulnerability is often present for me in those contexts too, but maybe it helps a person to trust in the process and in me, because I don't present myself as the expert."
When I ask her about the relationship between touring work and community dance, Jane pauses. "My primary love is the body. Although I'm not in a position to be a dancer in a regular company anymore, part of me still yearns to dance. I've never felt that my community practice is the poor relation to touring work. I know this hierarchy isn't so present anymore anyway, but I really do find people's bodies and physical expression endlessly fascinating and moving. It's more issues of visibility, accessibility and mechanisms for making and sharing work that feels different, not the potential quality of the artworks. I try to bring an attention to detail across projects and can't help but bring an artistic lens to how I'm working with people, even if a process is more about participation than performance."
Our musings on community dance takes us on to Jane's desire to extend Night Flying's reach to rural territories. "I am always looking for ways to broaden my work and challenge myself. I wanted to explore presenting Night Flying in spaces that might not ordinarily programme experimental dance, mostly because I wanted the work to have more of a life. I was fortunate to partner with Tim Smithies from Carn to Cove and Villages in Action, with support from Surf the Wave, and asked Tim to help us test the work with rural audiences. I'm now delighted to be showing in Devon, near where I live, and Cornwall, as well as Trinity Laban."
"It's on a budget, it's daunting; we are performing in a converted church which usually programmes music, plus a village hall and two university theatres. I'm curious to see how audiences respond as each context is very different. If I've made something, I want to go deeper into it and I want it to come alive. To do that you have to perform it and share it with people."
Jane isn't alone in her desire to bring dance to fresh pastures. Many artists are doing the same, not purely as a way to develop new audiences, but to enrich and fill people with art in the most unexpected spaces. "I feel strongly that it's not only dance literate people that get dance. If I can create the conditions to alter the way I'm seeing, to stimulate some ways of being and moving which can affect people, then I am truly rewarded."
Night Flying will be touring the following locations:
The House, Plymouth University — Wednesday 11 March
Ashburton Arts Centre — Friday 13 March
Grampound Village Hall — Saturday 14 March 
Images: Benjamin J Borley.