Words by Angelos Angelidis.
Her Agency by Women Wonder Collective
Disfigured bodies morphing into and out of materials: a blue tulle fabric, a black velvet blanket, and a gold space blanket. The piece is meant to explore female empowerment in contemporary times of socio-economic and ecological collapse. The collective thinks in a very painterly and sculptural manner, which I think is where their strength and potential lies. The amount of materials on stage was enough and created a beautiful minimalist elemental shifting landscape, but the challenge still remains on how to elevate those through the bodies performing around and with them. The act of balancing and of sharing weights created some nice images, yet deeper exploration in contact improvisation will really benefit the piece. Furthermore, audience participation in terms of the soundscape could present interesting possibilities for how the theme of unity can be communicated, allowing the viewers to affect how the piece unfolds through the use of sound. Overall, certain moments felt stuck and half-hearted and not really transmitting a message or feeling across. Saying that I can see how through further investigation this could become a powerful piece.
PEAK by Harry Parr
Harry's abstract piece reveals a great sense of musicality and a mastery of space and movement, fulfilling its promise of creating a palpable energy that connects the audience with the performers. An exploration of distance, levels and shapes perfectly engineered to the beats of the score and further amplified by a great lighting design. The piece is strong in its solos, duets and trios, with dialogues and rhythmical asymmetries combining to create visually arresting patterns showcasing a very strong dance technique from all three performers. I couldn't help but see a young Wayne McGregor in Harry, so I am excited to see his future choreographic work.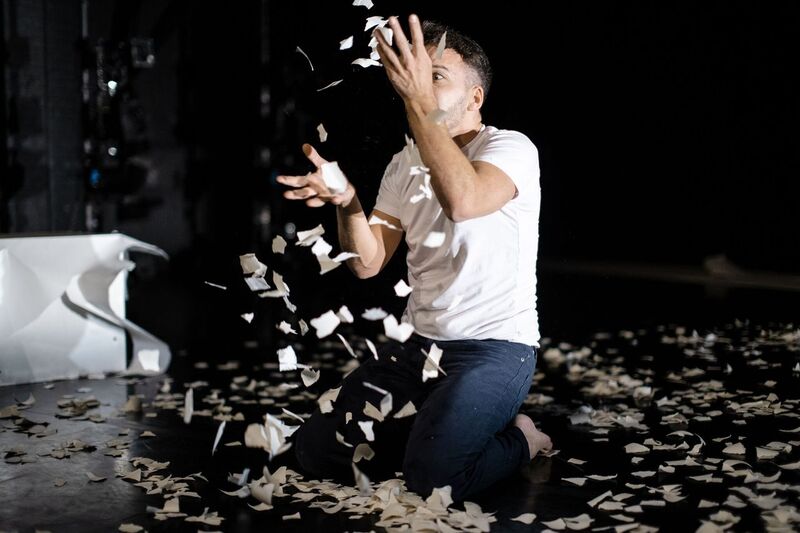 Square One (in progress) by Autin Dance Theatre
A man in his underwear sitting on a box made out of paper, slowly tearing it apart, dropping the paper pieces in a pile on the floor. The tearing apart is done with a sense of inquisitiveness about the object being destroyed, yet there is also an underlying futility in the action of the performer. The slowness of the first part, the gradual process of accepting that one does not fit in the way society has taught them they have to, is expressed by the crawling of the man on the floor to unwrap a large roll of paper. In the second part the pace is slowly picked up, cumulating to a lot of falling and tumbling on the floor scattering and re-exploring those torn-up paper pieces. A beautiful and tender exploration of the journey of the performer in terms of discovering their sexuality and gender, with a smart metaphor of the paper representing that personal history being torn, forgotten, revisited with different eyes. Overall, this piece tells an emotive story of the intertwining between our internal and external worlds and I loved the vulnerability that was shared on stage. A few more paper panels hanging could provide a nice way to play with shadows more, which I believe would really fit the theme and aesthetic of the piece.
Header image: Holly Williams.