Words by Katie Hagan.
As a reviewer, I see the 'je ne sais quoi' performances which leave me feeling as if I'm never going to witness something so unspeakably special after that experience, and I see others which make me feel a little bit silly for not 'getting' whatever the choreographer's intentions were.
So when I stood surrounded by rapturous audience members wanting more from ZooNation: The Kate Prince Company's Some Like it Hip Hop last week at the Peacock Theatre, I took a moment to absorb how everyone – all strangers with their own idiosyncrasies – seemed to be united by the same feeling of complete, irrepressible joy.
Taking inspo from Billy Wilder's Some Like it Hot and peppered with bits of William Shakespeare's Twelfth Night, Some Like it Hip Hop is a family-friendly tale of loss, mistaken identity and, of course, love. Chronicled throughout by MC-cum-narrator Tyce (Bradley Charles), this dance world is set within a time where the jaded Governor (Christian Alozie) abolishes all literature, makes women subordinate to men and uses his bare hands to force the sun into an eclipse, as coping mechanisms for the loss of his wife. A highly masculine society that would definitely make George Orwell quiver, if you aren't an intelligent bloke or a silenced woman you are cast outside of society's walls.
The opening movement is baked in testosterone; the burly Governor moves from man to man, standing behind each of them to assume the role of puppeteer. The Governor controls their movements, transmitting his power into their bodies. They pop and lock in sync with him, their individuality deadened, their limbs enslaved to the Governor.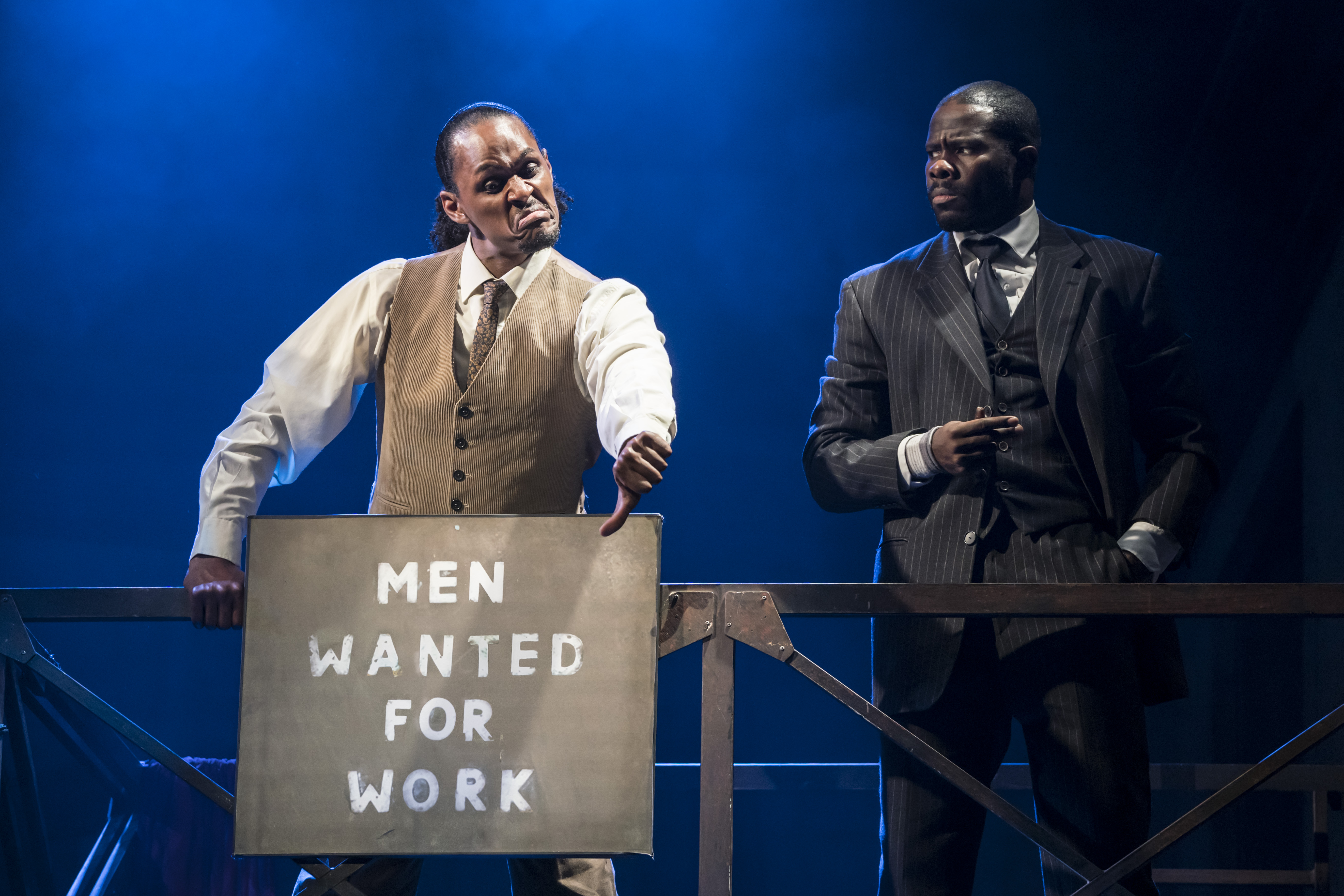 Two women, Kerri (Jade Hackett) and Jo-Jo (Lizzie Gough), are banished from society after the Governor disapproved of their transgressions. To return to civilisation, they have to become what they are indoctrinated to fear the most: men. 
Proving they are categorically unafraid of men, the women don itchy moustaches, grab their crotches, throw out their chests and hip hop to their female bodies' content.
Sudsay (Aaron Nuttall) is another social outcast. He moves like a hip hop Gene Kelly; he tumbles, he is sinuous, his boogaloo-ing has a dreamy, childlike innocence to it, and when he launches himself off the ground he does it with so much life its as if he never wants to return.
Kate Prince's choreography encapsulates a diverse range of hip hop sub-forms: break, krump, b-boys (and b-girls!) The movement is pulsing; there's a cargo of tricks, flips and battles which push the dancers' bodies to their limits. One dancer splays his limbs like a bat before landing on the floor, changing positions mid-air with another dancer who rolls underneath him.
As with Wilder's and Shakespeare's pieces there's a happy ending met with swoons from the audience. The Governor is reconciled with his long-lost daughter (who'd have thought it) and Kerri's love for him becomes requited. But the plot predictability is totally immaterial. Some Like it Hip Hop enables its audience – particularly younger ones – to understand history, to see what women continue to endure, all because this dance form speaks a language they can understand.
But more importantly Some Like it Hip Hop is Kate Prince's proclamation that the form is not just Britain's Got Talent and pyramid formations. With a strong, diverse trajectory, it is a democratic dance style worthy of being exhibited in any performance space – especially prestigious theatres around the globe.
Header image: Johan Persson.